The subject of the workshop will be the construction of improvisation – including the role of articulation and rhythm to enrich the playing solo. Workshop is designed for "electric", guitarists but also "unplugged" ones will benefit from them as well.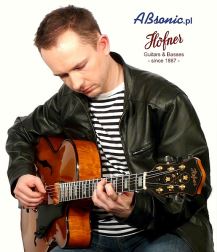 The next dates and locations:
11.04.2011, 17.00, RYBNIK, Music Shop Rondo, ul. Wodzisławska 56
www.rondomusic.com.pl
12.04.2011, 17.00, CHORZÓW, Music Shop Piano-Forte, ul. Hajducka 8
www.piano-forte.pl
13.04.2011, 17.00, NOWY SĄCZ, Miejski Ośrodek Kultury, Aleja Wolności 23
www.amadeusz.info
14.04.2011, 17.00, KRAKÓW, Music Shop Sklad Muzyczny, ul. Skawinska 14
www.skladmuzyczny.pl
15.04.2011, 17.00, WROCŁAW, Music Shop M. Ostrowski, Aleja Armii Krajowej 5
www.muzyczny.pl
Admission is free!
The workshops will be combined with the presentation and promotion of guitars HOFNER guitars and ABSONIC publications (moderated by Grzegorz Templin).). There will also be prizes draws for the audience!
In June workshops in other cities!