Guitar Challenge 2, is a continuation of Krzysztof Blas gitar method, who won the hearts of thousands guitarists in Poland! Whether you play an acoustic or electric guitar – the informations included inside will allow you to effectively expand your music knowledge and improve your playing technique!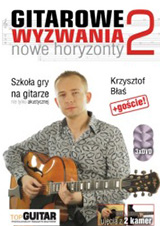 • Harmony
• Improvisation, solo playing
• Selection of scales
• Groove
• Composition, structure and chords progression
• Types of blues and blues licks
• Fingestyle
• Classical guitar
• 12-string guitar
• How to amplify an acoustic guitar?
• Guitar recording techniques
• … and much more!
Many presentations, exercises, printable sheet music, audio accompaniment and multiple camera scenes provide a comfortable and effective learning! It is a method for both electric and acoustic guitarists – the latter will find lessons specifically dedicated to this instrument. Guitar Challenge 2 is more than 7 hours of a multimedia gitar feast recorded on 3 DVDs! But that's not all – discover new horizons along with invited guests, who not only share their professional experience, but also reveal their tricks due which they became the most recognizable guitarists in Poland:
Mietek Jurecki
Wojciech Hoffmann
Jarek Trelinski
Robert Kordylewski
Kasia Maliszewska
Michal Zygmunt
Peter Restecki
The method was premiered at Music Media Fair in Krakow on 23-25 September 2010.
The method can be purchased directly at: http://galeriamuzyka.pl/?…e-horyzonty-dvd and in music stores in Poland.
The method was established with the cooperation with Höfner instruments.
Watch the trailer: