Guitar Challenge 2, a continuation of the school of Krzysztof Blas, who won the hearts of thousands guitarists in Poland!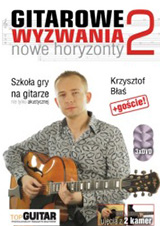 Whether you play an acoustic guitar or electric – contained messages versatility will allow you to effectively expand your knowledge and improve your workshop!
Harmony
Improvisation, playing solo
Selection of scales
Groove
Composition, structure and combine chords
Types of blues and blues licks
Fingestyle
Classical guitar
12-string guitar
How to amplify acoustic guitar?
Guitar recording techniques
… and much more!
A number of presentations, exercises, printable sheet music, audio accompaniment and scenes from multiple cameras provide a comfortable and effective learning! It is a school for both electric guitar and acoustic – the latter, however, will specifically dedicated to this instrument lessons.Guitar Challenge 2 is more than 7 hours a multimedia feast guitar on 3 DVDs!But that's not all – discover new horizons along with invited guests, who not only share their experience, but also reveal the patents so that they became one of the most recognizable guitarists in Poland:
Mietek Jurecki
Wojciech Hoffmann
Jarek Trelinski
Robert Kordylewski
Kasia Maliszewska
Michal Zygmunt
Peter Restecki
Premiere School Fair was held at the Music Media in Krakow on 23-25 September 2010.
School can be purchased directly here: http://galeriamuzyka.pl/?…e-horyzonty-dvd and in music stores in Poland.
The school was established with the participation of Höfner.
Watch the trailer: