Author of the school's best-selling DVD ˝Guitar Challenges" is back with a new challenge! This time, Krzysztof Blas reveals the secrets of playing the electric guitar. ˝No Secrets" is an uncompromising set, which includes an extensive book and three CDs. Dozens of color photos, a huge set of exercises and diagrams, and most importantly, extensive commentaries on the author, finally allow independent and effective learning! The included CD contains not only exercise, but also examples of improvisation, and accompaniment for self-improvement of known issues.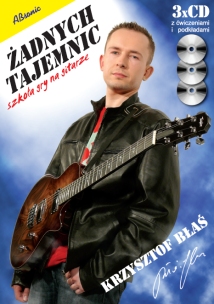 A huge range of material included allows for comprehensive education – from the choice of instrument, with the first steps, to complex issues in the field of harmony and composition. Guitar techniques used in contemporary rock music, arrangements and harmony rules of pop music – it's just selected issues, presented in accessible, understandable form – without any secrets! Whether you're new to the guitar, or maybe you want to play even better – learning to play the guitar has never been so easy!
Media partners of the project exercises Magazyn Gitarzysta, as well as portals: www.gitara.pl.
Patrons are; Taylor, T.B. Electric Guitars, Benedetto, Flaxwood Guitars, Electroharmonix, represented by
KISIELEWSKI S.C.
Publisher: ABSONIC Wydawnictwo Muzyczne ABSONIC.
Wojciech Hoffmann (Turbo):
"I have to say that I've never seen such a guitar school in Poland. A great teaching material very straight and well served. Contained herein are very detailed information and examples of different kinds of playing scales and wider range of theory and chord construction and mining techniques sound. Much number of examples, exercises on the left and right hand should satisfy any potential guitarist. All logically planned. author gives us a sort of guide guitar. Author show you how to buy a guitar, which pay special attention when purchasing and operating the instrument. And then just practice and practice, I believe that he is pleased to take this knowledge. Krzysztof – I really congratulate this school! It really is very useful and excellent material for any guitarist. "
Jacek Krolik:
"Many of the necessary theory and a lot of interesting examples!"
Jarek Trelinski (Raz, Dwa, Trzy):
"Developed in the accurate way, guitar school of Krzysztof Blas allows you to learn and master effective instrument. Highly recommend it to the people who will use this knowledge to achieve their guitar passion, as well as those who are thinking about obtaining the skills necessary for professional playing. Bearing in mind that conscious to go into the world of music is also a pleasure and fun, you should keep in mind the rules fairly presented here. "
Information about the school of guitar, please contact:
ABSONIC
Tel: +48 (71) -336-73-10
e-mail: absonic@absonic.pl
School will be available in good music stores and bookstores in the Poland.
Screens:
Patroni:
Patroni medialni:
Dystrybucja: